Tooling Making Services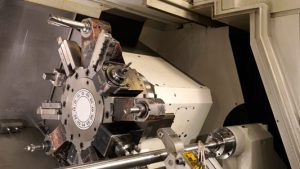 Toolmaking Services
(design-press toolmaking-jigs and fixtures-machining)

DESIGN
2G Tooling designs all of the tools and jigs and fixtures in house.
By using the latest VISI VERO design and modelling software, 2G Tooling is able to provide anything from simple blank layouts to complex surfacing.
Along with VERO part explorer, we are able to import and export most of the industry standard formats of models or drawings.
For Example catia v5/6 .stp iges .dxf parasolid to name but a few.
A full sub-contract design service is also available if the tooling design is all you require, this includes layout-model design-drawings-paper prints.

Press Toolmaking

From the simplest fly press tool, to 4 Tonne draw tools, 2G Tooling prides itself on finding the best solutions to your part and budget requirements.
Working with a range of materials to suit part and tooling needs 2G Tooling is able to manufacture it's tooling through the use of industry standard Vero Visi machining 3D and 3 + 2 cam software.
Old fashioned toolmaking skills are not lost on 2G Tooling, it's not just all high tech, with repair and modifications welcome and undertaken.
Toolmaking is supported by an in house tool trial of up to 160T, with a further trial at partners of up to 600t.
Quality on time to budget tooling is always at the forefront to what we strive to achieve this is why we use a reputable supply chain for all tooling manufacture.
Tool steels – Uddeholm punch and die consumables – AWP heat treatment – Tamworth HT.
Fly press – progression – draw – transfer – piercing units – blanking and clipping.

Jigs & Fixtures

From concept to design to manufacture 2G Tooling produces jigs and fixtures of various size and complexity.
Our experience is built from 30 years of design, manufacturing and supplying bespoke jigs and fixtures to a broad sector of industries.
Using a range of materials and designing to include standard off the shelf parts, 2G Tooling takes pride in providing simple but effective jigs and fixtures to meet budgets, lead times and requirements.

Machining
Though press tooling is our main forte and market, we still know how to machine!
Be it a 1 off initial sample to a 10,000 part production run.
Our VMC's have the quality and reliability to make us competitive in the market.
Backed up by manual milling, turning and surface grinding 2G Tooling can deliver on the most demanding of requirements.
Send your enquiry for a prompt quotation via our Contact Page